An approach which has delivered over Rs 1500 crores & counting..
Social protection is a set of public measures that society provides for its members to protect them against economic and social distress caused by the absence or substantial reduction of income from work as a result of various contingencies ; the provision of health care; and the provision of benefits for families with children1.
Social protection reduces vulnerability, reduces inequity and gives a leg up to the poorest and most vulnerable.
At CMS, through the Universal Help Desk (UHD) for social protection we solve problems at every stakeholder level.
A UHD centre:
Bridges the gap between demand and supply of services

Increases awareness about schemes and programmes

Serves as a hub for referral linkages with other public and private service providers

Uses a technology platform to track applications and analyse data
Set up within a community organisation, NGO, a factory or any other location, UHD centres are local entities that are able to provide highly personalised and effective support to communities. The UHD centre is manned by a Help Desk Facilitator (HDF), a local, trained person. Various activities are conducted (depending on the community) to raise awareness and mobilise demand for UHD services. The centre adds value to the government by aggregating applications from communities and by helping the government achieve targets, gain recognition and relay modifications to social protection schemes to vulnerable communities.
By addressing the three main challenges to social protection – awareness, availability and ability – for both citizens and governments, the UHD initiative helps build bridges with communities and their leaders, while leveraging technology and relationships to solve pressing economic challenges.
What is our progress and success?
The Catalyst group has 27 years of social development experience. Swasti has worked and implemented several social protection projects with groups like sex workers, people living with HIV, factory workers and rural/urban women in various parts of the country. The journey began with UNDP, India-funded HIV-sensitive social protection model development and later on the Utkarsh Project and as part of the Avahan Project So far, we have facilitated a total of 177 UHDs covering 13 states & 1 UT, over a span of 10 years. We have mapped 2179 state schemes and central schemes, covering information on eligibility, scheme briefs, application details, and point person of contact. The economic benefits of our social protection initiatives amount to Rs. 276.21 crores in lives insured, Rs. 507.19 crores in benefits of schemes availed, and Rs. 1143.66 crores in the application of schemes.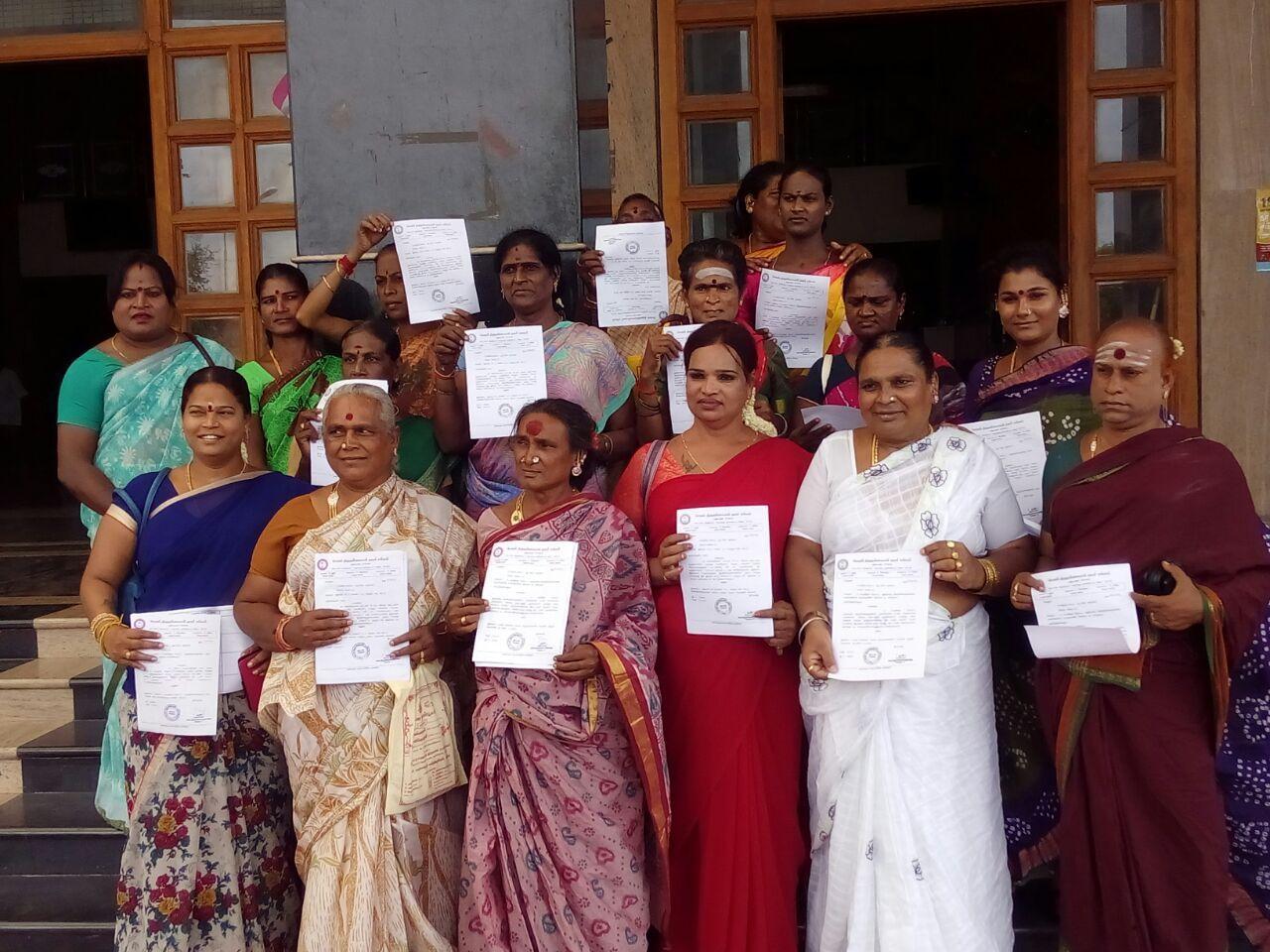 Image: Women & TG in Tamil Nadu, India receiving social protection
Reach out to us to know more
1 (ILO Definition: ILO: World Labour Report: Income security and social protection in a changing world (Geneva, 2000) p. 29; ILO: Principles of Social Security (Geneva, 1998) p. 8)