CONFIDENCE & WELL-BEING
Is the true path to happiness taking responsibility, being positive and being in control of one's life?
Case Study 1 – Accessing Social Protection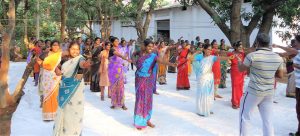 Harini is a 26-year-old married woman working with Nisha Designs, Bangalore. Her husband being an alcoholic was not providing for the family's needs which forced Harini to start working to support her family and son's education. Harini would save money at home in a piggy bank, which was used by her husband to buy alcohol.
Harini participated in the HERfinance programme which built her capacities on accessing financial information and services, saving in safe sources etc. She accessed information on financial products and services through the Financial Mela organized in the factory. With the help of her friend, Harini learnt to save money in the post office, and now saves Rs. 700 every month for her son's education.
Harini says, "Before the training, although I was aware of saving money in a post office, I was scared of the process and the forms. One day my co-worker helped me to open a savings account in a post office. Now I go to the post office by myself. With permission from my factory management, I collect money from all my peers who are saving in the post office and deposit it for them. In my eight years of working experience, this is the first time I have accessed so much information on finance. This training has not only helped me but also my co-workers in the factory."
Case Study – 2: Towards a debt-free life
Rekha Mani has been working as a tailor at Outdoor Clothing in Bangalore. She lives with her husband while both her children live with her mother in their village. Her husband had invested in vegetable farming in their village. Taking advantage of his naive nature, many people cheated him, since neither Rekha nor her husband had knowledge about running a business or managing their finances. They ended up having a lot of loans and financial problems and were compelled to move to the city in search of a livelihood.
Rekha underwent technical and foundational training conducted by the W4W team. The foundational training improved Rekha's self-confidence, communication skills, time management, financial management and knowledge on health and gender equality.
Earlier on, Rekha used to give all her salary to her husband, but after the session on financial management, she assesses her own and her husband's income for the month, budgets her expenses, and sends her mother a part of her income to meet her children's education. She has also started saving money to pay off their pending loans.
Rekha says, "I learnt a lot from this programme. If women and men in the villages can avail this kind of training, they would be able to use their skills to survive there itself; they need not come looking for jobs in the city."
Case Study – 3: Taking Responsibility for a Girl Child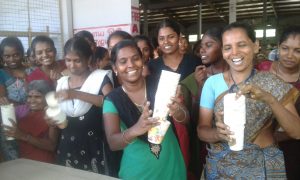 Amarjeet Thakur is a Checker and Worker Wellbeing trainer at Vamani Overseas, Delhi. The session on gender sensitivity conducted by the W4W team-inspired Amarjeet to follow the principles of gender equality in his life.
He once visited his relatives' house to congratulate the parents on the birth of their third child and bless their baby girl, but the parents were disappointed in having a baby girl once again (after two girl children). The baby's father started blaming his fate for having a girl child. Amarjeet pacified the father and shared lessons learnt on gender equality through the Sakhi programme, but it was of no avail. Amarjeet offered to take responsibility for the newborn. His relative agreed as he felt that the third child would add to the financial stress of the family, given their low economic background. Amarjeet took the child home and now looks after her as his own.
"Discrimination against girl children has to end. I tried to convince my relatives that both sons and daughters are equal, and it does not matter these days. However, since he felt that she would be a burden on them, I am bringing her up as my own. I will provide for her and make sure she lives life to her full potential."